Flipkart Vs Amazon:How Indian Major Overcame Amazon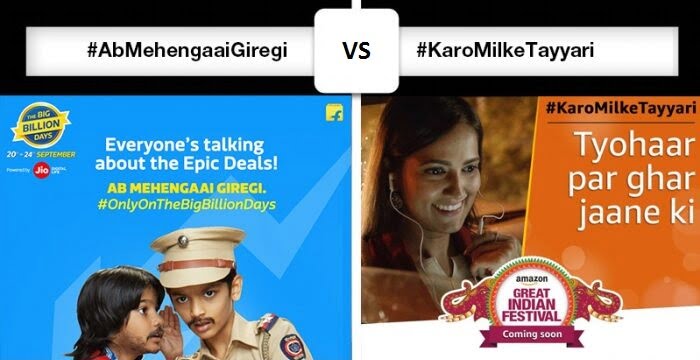 Flipkart Ltd again beat arch-rival Amazon in the flipkart vs amazon festive season sales battle in 2017, underlining its tactical superiority and marking strong end to a year in which it turned around its fortunes and secured its status as the country's largest online retailer.
The festive season period may have also marked a turning point for e-commerce in 2017, as online retail is now set to grow by more than 25% for the full year after a sluggish first-half performance, according to analysts and company executives.
Key Pointers
The e-Commerce industry generated Rs 9,000 crore in this festive season sale.
Cash burning in the e-tailing industry was expected to reach upto $ 370-400 million this year on the back of large scale discounts.
Flipkart increased its GMV to 58 % in this 5 day season while for Amazon it decreased to 26 %
3000-3500 crore to come from Tier 2 towns
Redseer consulting analysis  of the 5 day season is shown below
Flipkart vs Amazon-Overall sales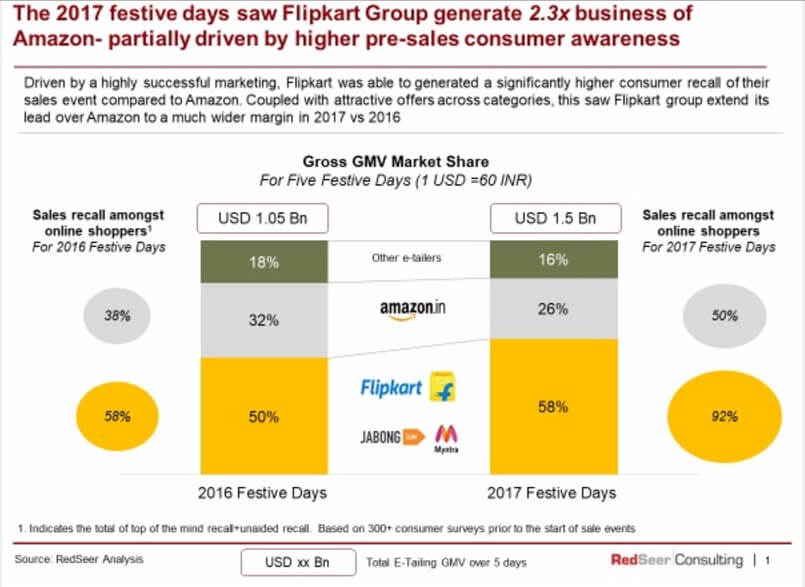 Flipkart seems to done more than double the sales of amazon which will be worrying for amazon
Flipkart vs Amazon:Marketing Strategy
More focus on digital media:
Flipkart seems to have increased media spends to as much as 40 % in digital media compared to traditional media
Flipkart made a total of 1, 00,000 ads which were sent to specific customer segments based on the categories. Such a scale marketing was done for first time in the industry
While Amazon has a far broader product assortment, Flipkart focuses more on putting together a compelling collection of exclusive brands and products for such sale events. These products are identified months before the event, and Flipkart sales employees are pushed to do everything to secure them on an exclusive basis. During the sale, the company offers attractive prices on many of these products, which are prominently placed on its app and websites
Apple Inc.'s iPhones, Xiaomi phones and VU television were the Hero products delivering the major chunk of the flipkart sales whereas amazon focused on bouquet of products with no major focus products
Better Communication Messaging
Flipkart focused on the "Ab mehengai gireggi" Tagline while amazon focused on "karo milke tayyari" where as paytm focused on bumper cashbacks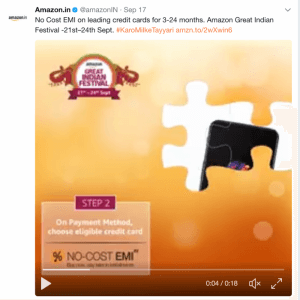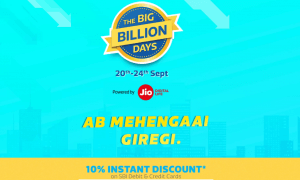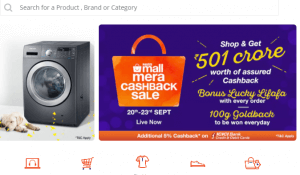 Amazon #KaroMilkeTayyari
Amazon in their #KaroMilkeTayyari commercial focused on the joy of preparations together for the festive season. Emotional route is taken to highlight that festivals are to be spent with families and friends, while all you have to do is return home, Amazon is there to take care of essential things like shopping for your near and dear ones.
Flipkart #AbMehengaaiGiregi
Flipkart launched a series of 8 unique commercials titled #AbMehengaaiGiregi featuring their famous kid adults. The idea of 'Ab mehengaai giregi' – (now inflation will fall) done by agency Lowe Lintas as the antidote to rising prices
Flipkart vs Amazon:Social Media Strategy
Flipkart  engaged with the users through their #BigBillionDayHunt, where all one needed to do was to spot the offer and share them in the comments section and say which one they loved the most and why. Gift vouchers worth Rs 20,000 was up for grabs. The brand used hashtags like #TheBigBillionDays and #AbMehengaaiGiregi to drive conversations online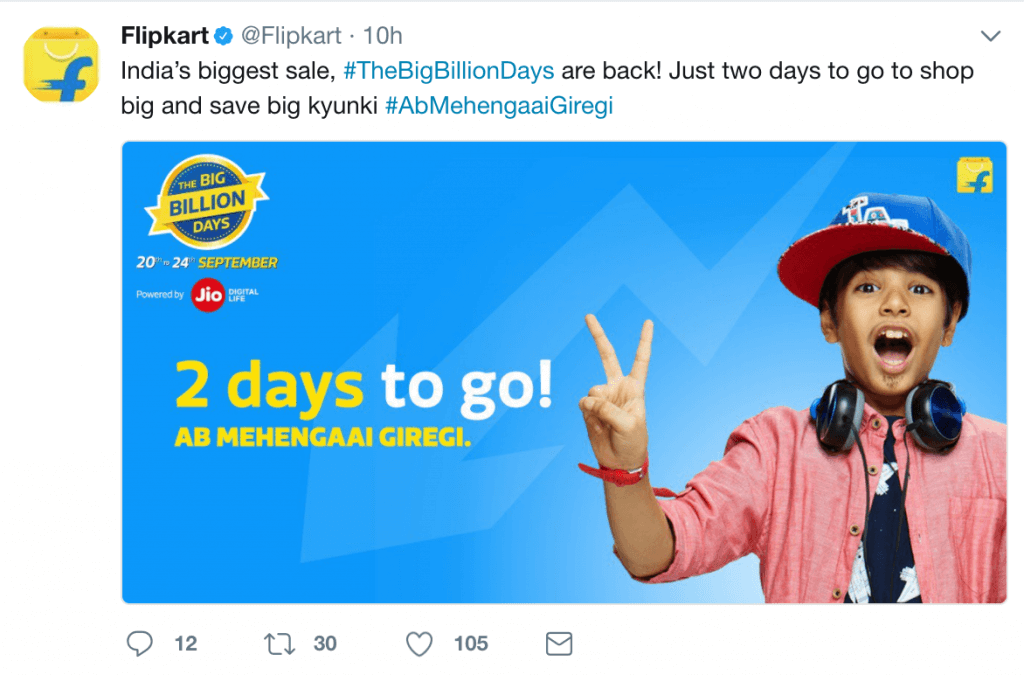 Flipkart has also tied up with online content platform TVF to promote the upcoming 'Big Billion Day' sale through a hilarious video. This is the third year of their partnership and views on the video crossed 1.2 million on YouTube.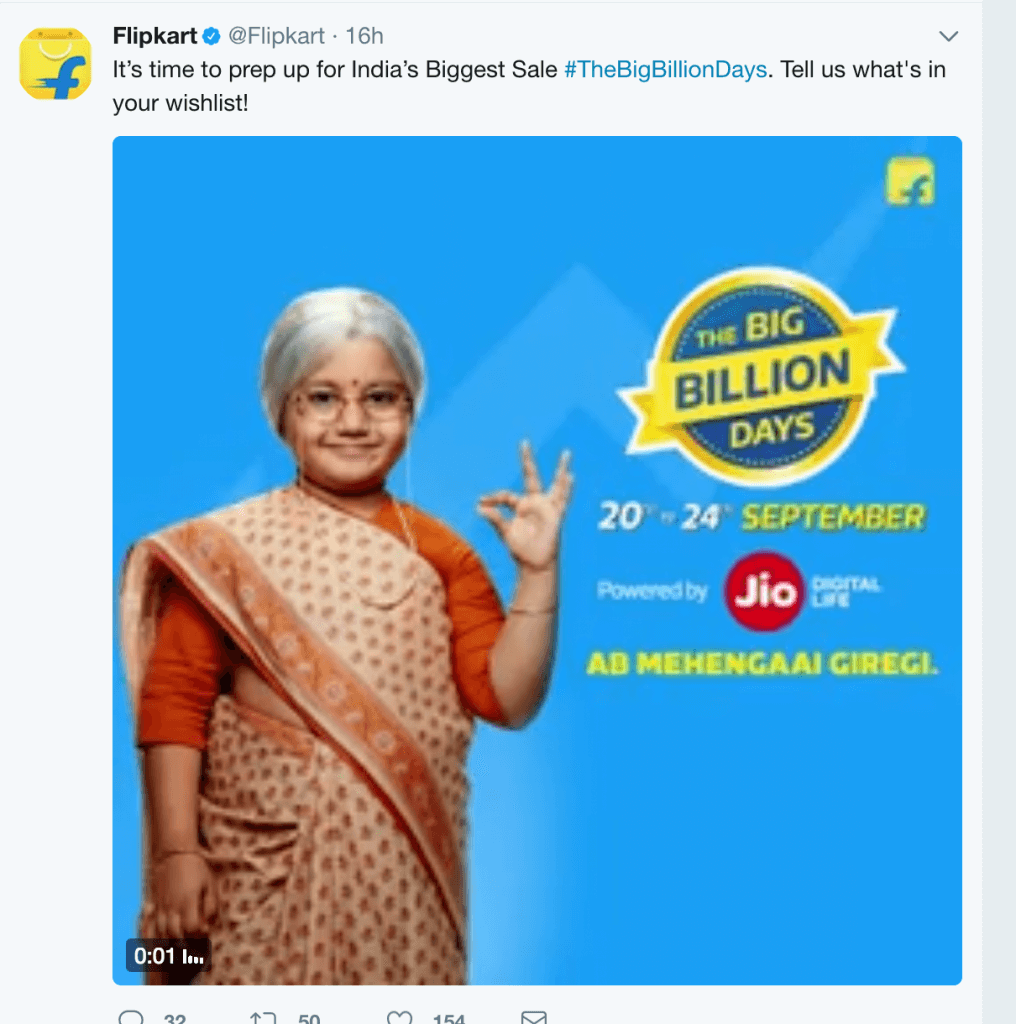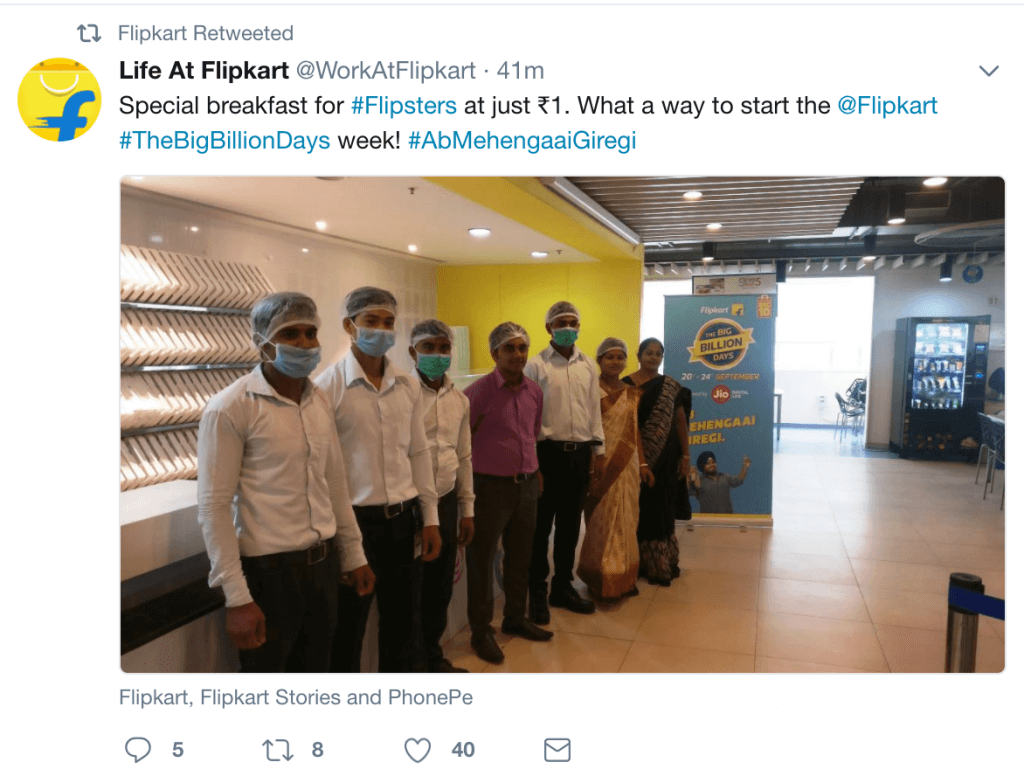 Amazon on social media was mainly promoting details about their sales, like no-cost EMI and easy exchange, just ahead of the Great Indian Festival
Brand recall:
While speaking of brand recall, it is Flipkart, which stands out. Flipkart followed their unique strategy of using kids for their commercials since its very first commercial back in 2011. Flipkart has established its communication route with kids being the cast, adding an angle of humor and cuteness constantly. This helped to improve recall drastically while the new angle of "Ab Mehengi Giregi" created an instant connect across the classes and masses
Even though Amazon's emotional touch has managed to make people feel homesick this festive season, Flipkart surely has created more conversations and stood out in all their creatives, which were more relatable and humorous.
Inspite of this huge surge in sales for ecommerce,industry has still not come out of red. Most of these are first time buyers & repeat buying is going to be critical for industry to come back strong.For that experience of delivery matters and that is what will decide the future of industry.
Related posts: